Get Connected | 2018 | Phoenix
August 26th - November 25th, 2018
WHETHER YOU ARE EXPLORING THE CHRISTIAN FAITH OR A SEASONED CHRISTIAN, WE LOOK FORWARD TO JOINING YOU ON YOUR SPIRITUAL JOURNEY AT OUR GET CONNECTED MINISTRY
GET CONNECTED CLASSES:
• Step 101: Beliefs and Values
Explore the history and ministry of Dream City Church and find out how to connect with our church's beliefs. Step 101 takes place the first Sunday of every month.
• Step 201: Momentum – the 5 G's
Dive into God's amazing grace, explore the details of His personality and how He truly sees you, discover your gifts, and see how your design reveals your purpose in life and your best fit in ministry. Step 201 takes place the second Sunday of every month.
• Step 301: Discovery (personality and giftings)
We want to help you see how your unique personality and gifts, along with your purpose in life, are created by God for a reason. Step 301 takes place the third Sunday of every month.
• Step 401: Empower (Make a difference)
Connect to the opportunities available at Dream City Church to live out your purpose and serve others by using your God-given gifts. Step 401 takes place the fourth Sunday of every month.
[IGNITE] Financial Peace University
September 11th - November 13th, 2018
$109
[Category: Finance]
Promo Video: https://youtu.be/UDW3HEgh_w8
Financial Peace University is a nine-lesson, money-management class taught by America's most trusted financial guru, Dave Ramsey. Dave and his teaching team will walk you through the basics of budgeting, dumping debt, planning for the future, and much more.
Cost: $109
[IGNITE] Beyond Divorce
September 11th - November 13th, 2018
[Category: Marriage & Family]
Beyond Divorce is a ten-week class that provides hope and healing for those recovering from divorce. This course will help you get your life back on track and revive your vertical relationship with God.
Cost: Free
[IGNITE] Killing Kryptonite
September 11th - November 13th, 2018
$15
[Category: Spiritual Growth]
Destroy what steals your strength.
For so many Christians, frustration and fatigue set in as they try time and again to get free from what holds them back. God never intended for it to be this way. He destined you to be victorious in every area of your life, and more than that, He gives you the power to overcome whatever comes against you.
You can enjoy a life of intimacy and connection with God. You can have a vibrant, powerful faith that impacts the world around you. But first, you have to face off with spiritual kryptonite.
This book is not for the faint of heart. But if you're ready to embrace a journey of radical transformation, this message is for you.
Are you ready to kill your kryptonite and step into the life you were born for?

[IGNITE] Majoring in Men
September 11th - November 13th, 2018
$24
[Category: Men]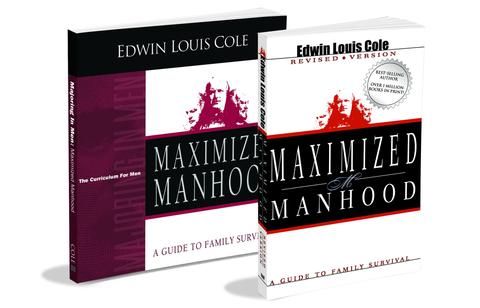 Order your book and workbook today!
$24.00
Maximized Manhood
Dr. Edwin Louis Cole, known as "the father of the Christian men's movement," was not afraid to tackle the tough topics that affect men today. His straightforward, biblical insights help men and women alike to realize their full potential in Christ. Putting the principles found in Maximized Manhood into practice will revolutionize your home and transform your life into what God designed it to be.
[IGNITE] E.H.S. Journey
September 11th - November 13th, 2018
$21
[Category: Spiritual Growth]
The E.H.S. Journey is a plan for discipleship that deeply changes our relationship with God.
Do you identify with this statement? "I have been a Christian for 22 years. But actually, I am a 1-year old Christian 22 times. I keep doing the same things over and over again."
If you identify with this, you're not alone. Many believers are "stuck" in their spiritual journey, unable to mature in their walk with Jesus, held back by unhealthy tendencies and desires, having learned to settle for a life less fulfilling than the one they know they were created to live.
At one point or another, you will hit a wall in your spiritual journey.
Two truths hold the key to becoming your authentic self: (1) It is impossible to be spiritually mature while remaining emotionally immature. (2) Unless you slow and quiet your life down for a first-hand relationship with Jesus Christ, little change is possible.
In his bestselling book, Emotionally Healthy Spirituality, Pete Scazzero prescribes a roadmap for discipleship that is powerfully transformative. The "E.H.S. Journey" is a pathway to true and lasting change, deep beneath the surface, that will free you to enjoy new levels of spiritual maturity, personal fulfillment, and vitality in your walk with Christ.
Through this process, thousands of people worldwide have moved from a shallow Christianity to a deep, authentic relationship with God, themselves, and others.
Note: This Course was originally envisioned to be offered at Dream City Church as a follow-up to "Freedom," but has been re-imagined to include anyone who desires to deepen their relationship with God using proven methods to live in a state of freedom from your past, hurts, and regrets, with the tools necessary to cultivate a growing, healthy, thriving personal relationship with Christ.
Cost: $21
Optional book: Additional $12
[IGNITE] Foundations | "10 Steps Toward Christ"
September 11th - November 13th, 2018
$0
[Category: Spiritual Growth]
Whether you're new to faith in Christ, or you desire to deepen your Biblical understanding of what it means to follow Him, this 10-week course is for you.
Together, we will explore what the Bible says about:
Being "Born Again"
Covenants of Water Baptism and Communion
Baptism in the Holy Spirit
Christian Fellowship
Knowing God Through His Word
Cultivating a Daily, Dynamic Prayer Life
Stewardship
Hearing God
Freedom from Your Past
Winning the Battle for Your Mind
Cost: Free
Note: There is an optional book available for $11.00.
[IGNITE] Women | "Titus Touch"
September 11th - November 13th, 2018
[Category: Women]
Based on Titus 2:3-5, we believe every Christian woman has an obligation to mentor those who are younger in the faith, as well as those in the next generation. The lessons in the TitusTouch Biblical Womanhood Curriculum are structured "woman to woman", answering the call to discipleship by offering materials facilitated by mature Christian women, equipping women to teach others the principles they have learned.
Cost: $24
2019 Dream Conference | Women's Luncheon
February 6th, 2019
$12
Date: Feb 6th
Time: 12:30pm - 1:45pm
Ticket: $12.00 - includes a delicious boxed lunch, fun entertainment and an inspiring message by Pastor Penny Maxwell
About the Speaker:
Penny Maxwell - Senior Pastor at Freedom House Church in North Carolina.
Penny leads Freedom House alongside her husband Troy, partnering with him to serve in a balanced yet dynamic way. Penny is outgoing, animated and fun-loving, infusing energy and fresh perspective wherever she goes. With an eye for detail and a flair for the creative, Penny pours excellence into everything she does. Her heartbeat is encouragement, and she enjoys building people in their identity in Christ.