Baby Dedication | August 2018 | Glendale Campus
August 26th, 2018
We believe children are a gift from God and are very excited that you are considering having your baby dedicated! Baby dedication is a public commitment you make before God, your church, and your family. The dedication service provides the parent(s) an opportunity to publicly express your desire to lead and spiritually nurture your child in cooperation with the Holy Spirit so your child will develop a desire to love God and others.
At Dream City Church, this is intended for children from birth to five years of age.
Get Connected | 2018 | Glendale
September 2nd - November 25th, 2018
WHETHER YOU ARE EXPLORING THE CHRISTIAN FAITH OR A SEASONED CHRISTIAN, WE LOOK FORWARD TO JOINING YOU ON YOUR SPIRITUAL JOURNEY AT OUR GET CONNECTED MINISTRY
GET CONNECTED CLASSES:
• Step 101: Beliefs and Values
Explore the history and ministry of Dream City Church and find out how to connect with our church's beliefs. Step 101 takes place the first Sunday of every month.
• Step 201: Momentum – the 5 G's
Dive into God's amazing grace, explore the details of His personality and how He truly sees you, discover your gifts, and see how your design reveals your purpose in life and your best fit in ministry. Step 201 takes place the second Sunday of every month.
• Step 301: Discovery (personality and giftings)
We want to help you see how your unique personality and gifts, along with your purpose in life, are created by God for a reason. Step 301 takes place the third Sunday of every month.
• Step 401: Empower (Make a difference)
Connect to the opportunities available at Dream City Church to live out your purpose and serve others by using your God-given gifts. Step 401 takes place the fourth Sunday of every month.

[IGNITE] Majoring in Men
September 11th - November 13th, 2018
$24
[Category: Men]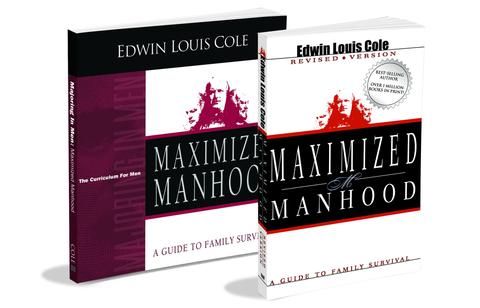 Order your book and workbook today!
$24.00
Maximized Manhood
Dr. Edwin Louis Cole, known as "the father of the Christian men's movement," was not afraid to tackle the tough topics that affect men today. His straightforward, biblical insights help men and women alike to realize their full potential in Christ. Putting the principles found in Maximized Manhood into practice will revolutionize your home and transform your life into what God designed it to be.
[IGNITE] Foundations | "10 Steps Toward Christ"
September 11th - November 13th, 2018
$0
[Category: Spiritual Growth]
Whether you're new to faith in Christ, or you desire to deepen your Biblical understanding of what it means to follow Him, this 10-week course is for you.
Together, we will explore what the Bible says about:
Being "Born Again"
Covenants of Water Baptism and Communion
Baptism in the Holy Spirit
Christian Fellowship
Knowing God Through His Word
Cultivating a Daily, Dynamic Prayer Life
Stewardship
Hearing God
Freedom from Your Past
Winning the Battle for Your Mind
Cost: Free
Note: There is an optional book available for $11.00.
[IGNITE] Women | "Crazy Love"
September 11th - November 13th, 2018
[Category: Women]
It's crazy, if you think about it. The God of the universe loves us with a radical, unconditional, self-sacrificing love. And what is our typical response? We go to church, sing songs, and try not to cuss. God is calling you to a passionate love relationship with Himself. Because the answer to religious complacency isn't working harder at a list of do's and don'ts—it's falling in love with God.
The Crazy Love Study Resource helps you and your small group to dive deeper into God's love. A companion to the best-selling Crazy Love book by Francis Chan, this 10-week study follows a day-in-the-life of Francis in the form of ten, 10-minute segments that correspond to each chapter of Crazy Love. These thought-provoking teachings are designed spark discussion, interaction, and practical application of the Crazy Love message with small groups, churches, youth groups, and individuals.
Cost: Free
[IGNITE] Grace: The Power of the Gospel
September 11th - November 13th, 2018
[Category: Spiritual Growth]
Many Christians believe their salvation depends at least in part on their performance. Even though they believe that Jesus died for their sin, they think that there is still a certain standard to meet. If that is true, then what is the standard, and how do you know when you have met it?
When you understand the Apostle Paul's revelation in the book of Romans about what Jesus did, you will never have to wonder if you're meeting that standard again. It's not what you do but what Jesus did!
If you want to throw off shame and condemnation and learn how to walk in grace, learn how to renew your mind, and learn how to walk in the finished work of the cross, Grace: The Power of the Gospel is for you! This in-depth teaching will open your eyes to all the Jesus has provided for you!
Cost: Free
2019 Dream Conference | Women's Luncheon
February 6th, 2019
$12
Date: Feb 6th
Time: 12:30pm - 1:45pm
Ticket: $12.00 - includes a delicious boxed lunch, fun entertainment and an inspiring message by Pastor Penny Maxwell
About the Speaker:
Penny Maxwell - Senior Pastor at Freedom House Church in North Carolina.
Penny leads Freedom House alongside her husband Troy, partnering with him to serve in a balanced yet dynamic way. Penny is outgoing, animated and fun-loving, infusing energy and fresh perspective wherever she goes. With an eye for detail and a flair for the creative, Penny pours excellence into everything she does. Her heartbeat is encouragement, and she enjoys building people in their identity in Christ.